Plug & play in 9 steps.
We left no stone unturned to make your crafting experience as easy as possible for you. Here is a compact overview of the crafting process.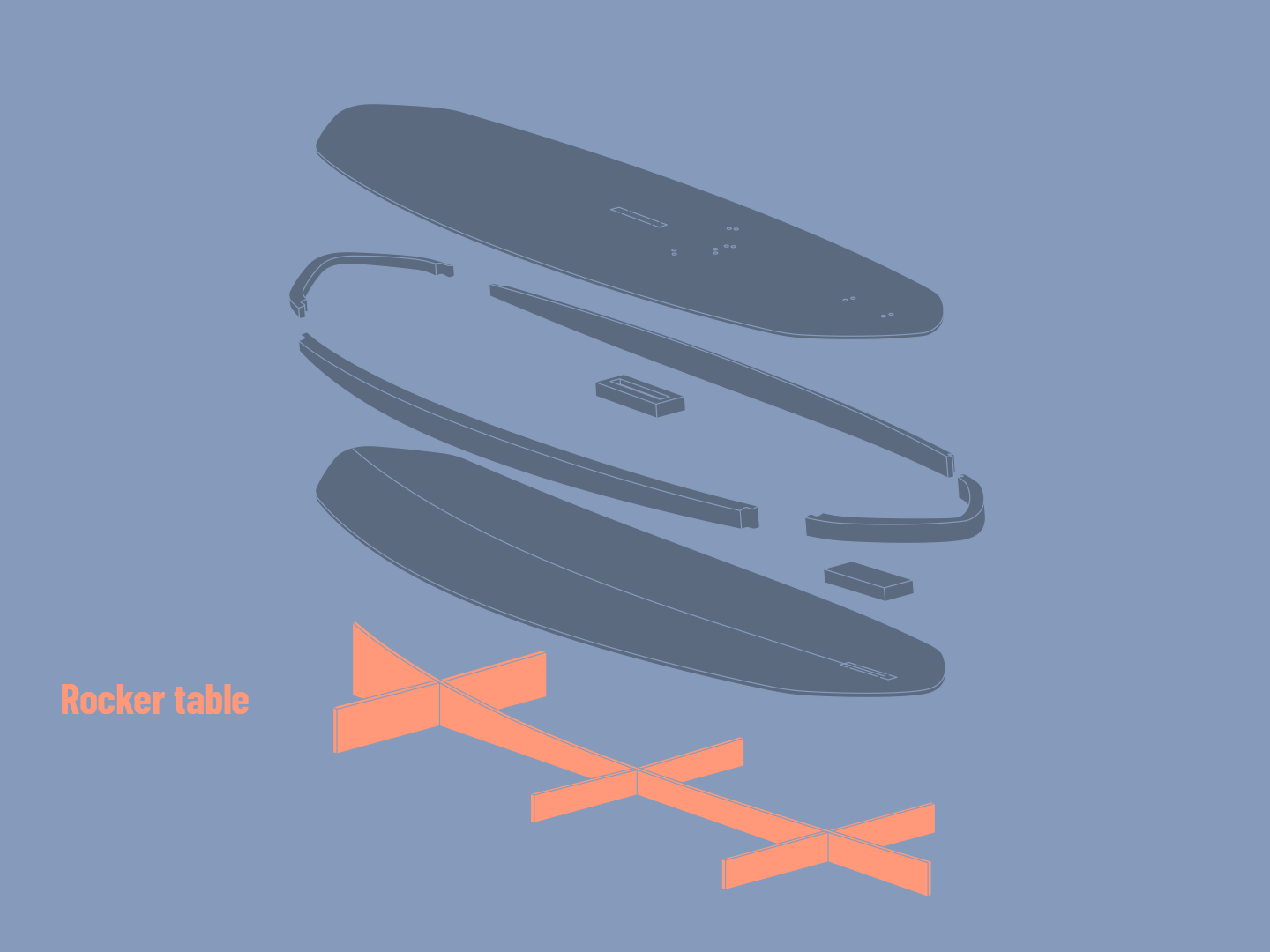 1. Rocker table.
---
Put the rocker on your even and straight working table. The rocker table will make sure your board will have the designated bottom shape in the end.
---
2. Bottom shell & fin block.
---
Now arrange the bottom shell exactly on the rocker table. Glue the fin block onto the bottom shell.
---
3. Nose belt & tail belt.
---
Glue the nose belt and the tail belt onto the bottom shell. Use the template therefor.
---
4. Rail belts.
---
Glue the rail belts onto the bottom shell right between the nose and tail belt. Use the template also therefor.
---
5. Deck shell, foot strap inserts & mast block.
---
Drill the holes for your individual stance and foot position on your board. You can use the template with our recommendation therefor. Glue the foot strap inserts into the holes and cover them with epoxy laminate. Glue the mast block onto the deck shell. Now glue the deck shell onto the nose, tail and rail belts. The body of your windsurf board is now closed.
---
6. Rail shape.
---
Follow our instructions to do the rail shape.
---
7. Mast box & fin box.
---
Install the mast box and the fin box.
---
8. Laminating.
---
Now it's time to laminate the rails and some more individual reinforcements.
---
9. Finishing.
---
That means to sand, filler and to paint your windsurf board. Put also some nice graphics onto your board. Install the foot pads and paint the grip onto the deck.
---
---
Yes, only the shells and belts. We don't need any core or stringer.
It's hollow!
DIY Windsurf Board Kit: out now.
Visit our shop and get more details on the DIY Windsurf Board Kit, such as custom design, sizes and additional Kits.